What is DC SiteBuilder?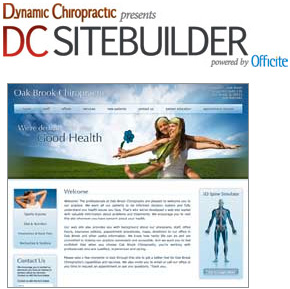 Chiropractic patients are increasingly using the Web to find practitioners. And when they find your practice's website are they seeing something that is attractive, easy to navigate and, most important, one that communicates professionalism and concern for their well-being?
Dynamic Chiropractic's DC SiteBuilder can give you the online advantage you need in today's very competitive atmosphere by delivering beautiful, and effective, websites that are specifically tailored to the needs of Chiropractors and their patients. These magnificently designed sites have been created by Officite, a highly respected web development company, in partnership with Dynamic Chiropractic, the profession's largest publisher of quality chiropractic content.
DC SiteBuilder offers you a choice of proven, pre-designed websites or fully customized designs. Whichever you choose, you'll find yourself with a stunning design that is easy to navigate, comprehensive in content and visually enticing. And, depending on your choice of product, you can be up and running with an amazing site in just a few hours.
Find out more about DC Sitebuilder here.
See the DC Sitebuilder Sample Galleries